The Kurdish diasporic mobilization in France: From a restricted political national frame to a translocal sphere of contention? The case of Kurds in Marseille, France
Zuhal Karagoz

Aix Marseille Univ, CNRS, LAMES, Aix-en-Provence
Abstract
Based on a sociological case study on Kurdish mobilization in Marseille, France; this article aims to expose the intricate dynamics that affect the transformation of mobilization forms and strategies in diaspora. By conceiving the mobilization process as a career, it aims to analyze the evolution towards different situations like the host country's politics or the critical events occurred in homeland or diaspora. In addition to these cornerstones increasing the legitimization of the Kurdish movement at local and global levels, this article aims to point out the emergence of a hybrid sphere of contention, which allows the inclusion of new actors in the transnational space of mobilization such as anarchist, anti-fascist activist networks. Acting together with traditional forms of contentious practices such as rallies and petitions; these hybrid mobilization strategies contribute to the durability and extension of the scope of diasporic action.
References
Adamson, F. (2012) "Constructing the diaspora: diaspora identity politics and transnational social movementsâ€, in: T. Lyons & P. Mandaville (Eds.) Politics from Afar: Transnational Diasporas and Networks, New York: Columbia University Press, pp. 25-45
Anderson, B. (1983) Imagined Communities. Reflections on the Origin and Spread of the Nationalism, London-New York: Verso
Başer, B. (2013) Diaspora'da Türk Kürt Sorunu. Almanya ve İsveç'teki İkinci Kuşak Göçmenler, İstanbul: İletişim
Bhabha, H. (1996) "Cultures in-betweenâ€, in: S.Hall& P. Du Gay (Eds.) Questions of Cultural Identity, London-California-New Delhi: Sage, pp. 53-61
Billig, M. (1995) Banal Nationalism, London: Sage
Bourdieu, P. (1993) La misère du monde, Paris: Editions du Seuil
Doytcheva, M. (2007) Une discrimination positive à la française? Ethnicité et territoire dans les politiques de la ville, Paris: La Découverte
Fassin, E.&Fassin, D. (eds) (2006) De la question sociale à la question raciale? Représenter la société française, Paris: La Découverte
Filleule, O. (2001) "Proposition pour une analyse processuelle de l'engagement individuel†Revue française de la science politique, 51(1), pp.199-215
Gastaut, Y. (2003) "Marseille cosmopolite après les décolonisations: un enjeu identitaire†in, Cahiers de la Méditerranée, 67, pp. 269-285
Gambetti, Z. (2009) "Politics of place/space: The spatial dynamics of the Kurdish and Zapatista Movementsâ€, New Perspectives on Turkey, 41, pp. 43-87
Granjon, F. (2001) L'Internet militant. Mouvement social et usages des réseaux télématiques, Rennes : Apogée (Médias et nouvelles technologies)
Grojean, O. (2008) La cause kurde, de la Turquie vers l'Europe. Contribution à une sociologie de la transnationalisation des mobilisations (Unpublished doctoral dissertation) Paris: EHESS
Grojean, O. &Massicard, E. (2005) "Mobilisations transnationales et environnement politique. La dynamique des organisations kurdes et alévistes, entre Turquie et Europeâ€, in : Blanc-Chaléard, Marie-Claude, Dufoix, Stéphane & Weil, Patrick (Eds.), L'Etranger en Questions, du Moyen Âge à l'An 2000, Paris: Le Manuscrit, pp. 401-430
Jessop, B. (1990) State Theory: Putting the Capitalist State in its Place, Pennsylvania: Penn State Press
Jongerden J. &Akkaya, H. A. (2016) "Kurds and the PKK†in J. Stone, R. M. Dennis, P. S. Rizova, A. D. Smith, and X. Hou (ed.), The Wiley Blackwell Encyclopedia of Race, Ethnicity, and Nationalism The Wiley-Blackwell,pp.1-5
Kastoryano, R. (1997) La France, l'Allemagne et ses immigrés, Paris : Armand Colin
Khayati, K. (2008) From Victim Diaspora to Transborder Citizenship? Diaspora Formation and Transnational Relations among Kurds in France and Sweden [Electronic version] Retrieved from :http://www.diva-portal.org/smash/get/diva2:18336/FULLTEXT01.pdf
Koopmans, R. & Statham, P. (2001) "How National Citizenship
Shapes Transnationalism. A Comparative Analysis of Migrants Claims-Making in Germany, Great Britain and the Netherlandsâ€, Revue Européenne des Migrations Internationales, 17 (2), pp. 63-100
Lichterman, P. (1998). "What Do Movements Mean? The Value of Participant-Observationâ€, Qualitative Sociology, 21 (4), pp. 401-418
Massicard, E. (2013) "Quand le militantisme s'adapte au terrainâ€, Politix, 102 (2), pp.89-108
Mattina, C. (2016) Avec Qui Gouverne-t-on La Ville ?, Paris: Presses de Sciences Po
Muchielli, L. (2013) "Histoire et Actualité de la Criminalité Ã
Marseille: un bilanchiffré des connaissancesâ€, Etudes et Travaux de l'ORDC, 8
Mügge, L. (2010) Beyond Dutch Borders: Transnational Politics among Colonial Migrants, Guest Workers and The Second Generation (IMISCOE Research). Amsterdam: Amsterdam University Press
Nell, M. L. (2008) "The shadow of homeland politics: understanding the evolution of Turkish radical left in the Netherlandsâ€, Revue Européenne des Migrations Internationales, 24 (2), pp. 121-145
Østergaard-Nielsen, E. (2003) The Politics of Migrants' Transnational Political Practices, International Migration Review, 37, pp. 760-786. Doi: 10.1111/j.1747-7379.2003.tb00157.x
Østergaard-Nielsen, E. (2006) Diasporas and conflict resolution. Part of the problem or part of the solution, Paper presented at seminar on Diaspora and Conflict, Peace Builders or Peace Wreckers? Danish Institute for International Studies (DIIS)
Ögelman, N. (2003) Documenting and Explaining the Persistence of Homeland Politics Among Germany's Turks, International Migration Review, 37(1), pp. 163-193
Peraldi et al. (2015) Sociologie de Marseille, Paris: La Découverte
Rigoni, I. (1998) "Les mobilisations des Kurdes en Europeâ€, Revue européenne des migrations internationales. 14 (3), pp. 203-223. Doi: 10.3406/remi.1998.1654
Safran, W. (1991) "Diasporas in modern societies: myths of homeland and returnâ€, Diaspora, 1, pp. 83–99
Sheffer, G. (1986) "A new field of study: Modern diasporas in international politicsâ€, in: G.Sheffer (ed.) Modern diasporas in international politics, Londres: Croom Helm, pp. 1-15
Simon, P. & Amiraux, V. (2006) "There are no minorities here: cultures of scholarship and public debate on immigrants and integration in Franceâ€, International journal of comparative sociology, 47 (3-4), pp. 191-215
Sommier, I. (2006) "L'altermondialisme: une nouvelle forme d'engagementâ€, Tracés, 11, pp. 161-174
Sökefeld, M. (2006) "Mobilizing in transnational space: a social movement approach to the formation of diasporaâ€, Global Networks, 6, pp. 265-284
Wahlbeck, Ö. (2007) "Kurds in Europe: From labor migrants to asylum seekers†in: A. K. Sahoo& B. Maharaj (Eds), Sociology of Diaspora, Jaipur: Rawat Publications, pp.443-472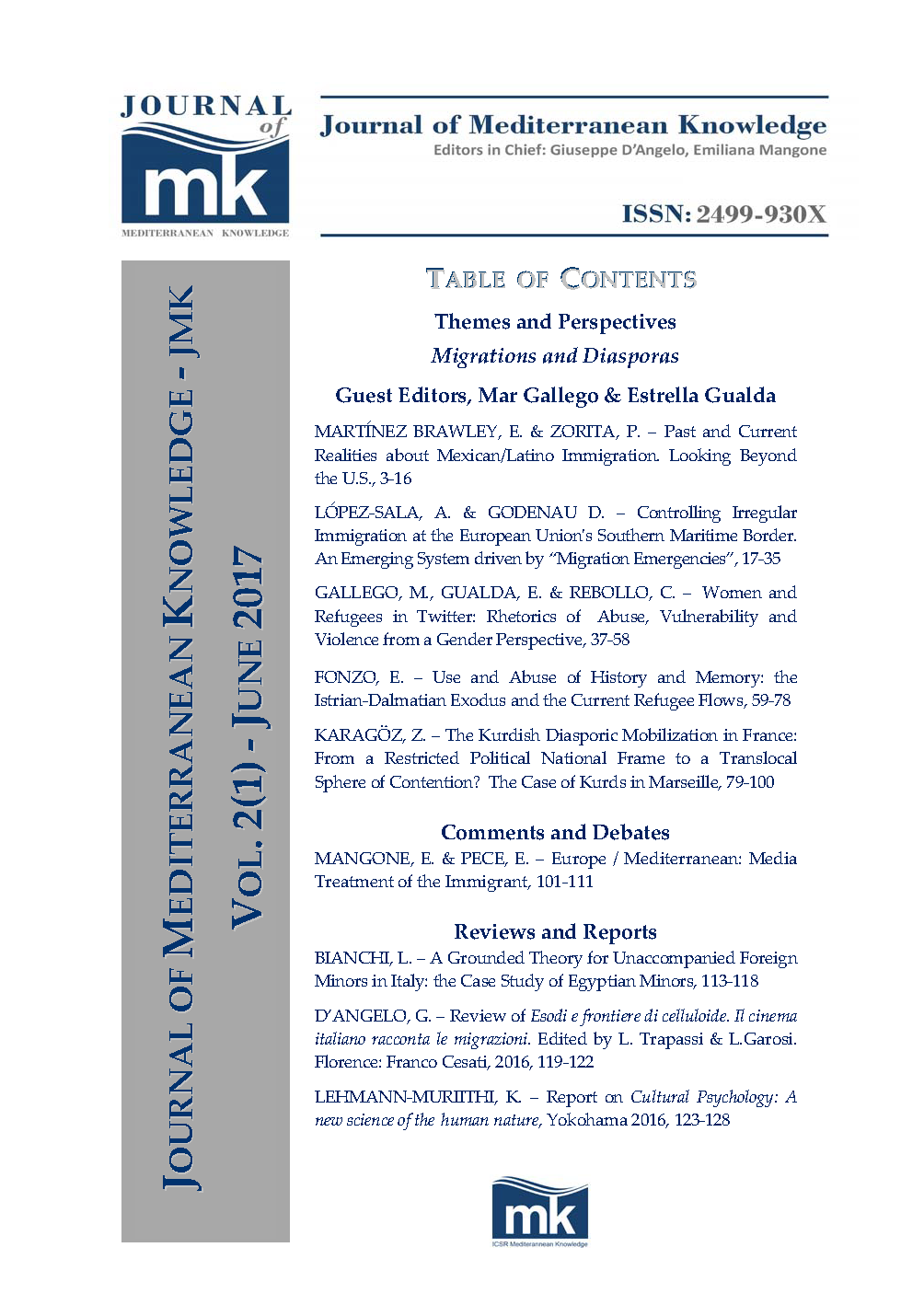 Section
Themes and perspectives
Authors who publish in this journal agree with the following points:
The author(s) guarantee(s) that the article is original and it has not previously published and it has not been sent to other journals for consideration.
The author(s) declare(s) that the work does not violate the copyright of third parties and assume the full personal and financial responsibility for any legal action which may be brought by third parties against the ICSR Mediterranean Knowledge
The author(s) retain(s) the rights of the work and grant to the ICSR Mediterranean Knowledge the right to publish the work in digital edition with the licence Creative Commons Attribution Licence 4.0 (CC BY-NC-ND) or in any other form that the publisher considers opportune for the maximum dissemination. This attribution allows others to share the work, indicating the authorship and the initial publication in this journal.
The authors can establish other arrangements with non-exclusive license to distribute the published version of the work (eg. deposit it in an institutional archive or publish it in a monograph), indicating that it was first published in the Journal of Mediterranean Knoweldge – JMK.
The author(s) can distribute the work online (eg. on their website) only after that it is published by the Journal of Mediterranean Knoweldge – JMK (see The Effect of Open Access).