The Garden City and the American Dream
Keywords:
Garden city, Howard, Suburbia, American dream, Anti-urbanism
Abstract
Howard's Garden city tradition is central in American urban planning and it has had great influence, also in its interpretations that were most distant from the original utopian model, on the ways in which the American city has grown. The approach defined by Howard rejected the English industrial city of the 19th century and proposed a model based on the values of local communities. The American translation of this approach has had great success and has brought after the second world war to the creation of suburbia, i.e. to a gradual process of suburbanization of the nation. This article sets out to investigate the evolution of the application of Howard's model, the ways in which this model has had an impact on the growth of the American city and the reasons that have determined its success among planners, architects and other decision-makers throughout the 20th century.
References
Adams T. (1931), The Epic of America, New York: Little, Brown and Company.
Archer J. (2005), Architecture and Suburbia. From English Villa to American Dream House. 1690-2000, Minneapolis: The University of Minnesota Press.
Astengo G. (1966), Urbanistica, voce in Enciclopedia Universaledell'Arte, vol. XIV, Venezia: Sansoni.
Belfiore E. (2005), Il verde e la città: Idee e progetti dal Settecento ad oggi, Roma: Gangemi.
Bergamini O. (2012), Da Wall Street a Big Sur: Un viaggio in America, Roma, Bari: Editori Laterza.
Candeloro G. (1982), trad. it., de Tocqueville A., La democrazia in America, Milano: Rizzoli.
CarrolP. N., NobleD. W. (1991), Storia sociale degli Stati Uniti, Milano: Editori Riuniti.
Conn S. (2014), Americans Against the City. Anti-Urbanism in the Twentieth Century, Oxford, New York: Oxford University Press.
Coppola A. (2015), Apocalypse town: Cronache dalla fine della civiltà urbana, Bari: Editori Laterza.
Cullen J. (2003), The American Dream: A Short History of an Idea that Shaped a Nation, Oxford, New York: Oxford University Press.
de Tocqueville A. (1848),De la Democratie en Amèrique, Paris: Pagnerre Editeur.
Duany A., Plater-Zyberk E., Speck J. (2001), Suburban Nation: the Rise of Sprawl and the Decline of the American Dream, NorthPoint Press, New York.
Gans H. (1967), The Levittowners, Columbia University Press, New York.
Grant J. (2006), Planning the Good Community: New Urbanism in Theory and Practice, Oxon: Routledge.
Grund F. (1837), The Americans, in their moral, social and political relations, Carlisle, MA: Applewood Books.
Hall P., Ward C. (2014), Sociable Cities. The 21st-Century Reinvention of the Garden City, Abingdon: Routledge.
Hanlon B., Rennie Short J., Vicino T. J. (2010), Cities and Suburbs. New Metropolitan Realities in the US, Oxford: Routledge.
Hayden D. (2003), Building suburbia. Green Fields and urban Growth 1820-2000, New York: Vintage Books.
Ippolito L. (2009), La villa nel Novecento, Firenze: Firenze University Press.
Jefferson T. (1829), Notes on the States of Virginia, Boston: Wells and Lilly.
Kaplan S. (1976), The Dream Deferred: People, Politics and Planning in Suburbia, New York: Seabury Press.
Katz P. (1994), The New Urbanism: Toward an Architecture of Community, New York: McGraw-Hill.
Kennedy C. (2011), The evolution of great world cities. Urban wealth and economic growth, Toronto: University of Toronto Press.
Krieger A. (2019), City on a Hill. Urban Idealism in America from the Puritans to the Present, Cambridge, MA: The Belknap Press of Harvard University Press.
Kunstler J. H. (2001), The City on Man: Notes on the Urban Condition, New York: Simon and Schuster.
Kunstler J. H. (1994), The geography of nowhere, New York: Touchstone.
Lefebvre H. (1970), La révolution urbaine, Paris: Gallimard.
Monkkonen E. H. (1990), America Becomes Urban: The Development of U.S. Cities & Towns, 1780-1980, Los Angeles: University of California Press.
Morris D. (2005), It's a Sprawl World After All: The Human Cost of Unplanned Growth – and Visions of a Better Future, Gabriola Island: New Society Publishers.
Moschini I. (2007),Il Grande Cerchio. Un viaggio nell'immaginario americano, Firenze: Le Lettere.
Mumford L. (1945), The Garden City Idea and Modern Planning, introduction for E. Howard's Garden Cities of Tomorrow, London: Faber and Faber.
Mumford L. (1961),The City in History. Its Origins, Its Transformations, and Its Prospects, Harcourt: Brace & World.
Parker S. (2004), Urban theory and the urban experience, New York: Routledge.
Passell A. (2013), Building the New Urbanism: Places, Professions, and Profits in the American Metropolitan Landascape, Oxon: Routledge.
Petti A. (2007), Arcipelaghi e enclave: architettura dell'ordinamento spaziale contemporaneo, Milano: Bruno Mondadori Editori.
Piselli F. (2009), Jane Jacobs: antimodernismo e capitale sociale, in Piselli F., Nuvolati G., La città: bisogni, desideri, diritti. La città diffusa: stili di vita e popolazioni metropolitane, Milano: Franco Angeli.
Pollan M. (1997),Town Building Is No Mickey Mouse Matter, New York Times Magazine, December 14.
Robertson Wojcik P. (2010), The Apartment Plot: Urban Living in American Film and Popular Culture, 1945 to 1975, Durham, London: Duke University Press.
Rohe W. M., Watson H. L. (2007), Chasing the American Dream: New Perspectives on Affordable Homeownership, New York: Cornell University Press.
Rosenberg E. S. (2011), Spreading the American Dream. American Econimic and Cultural Expansion, 1890-1945, New York: Hill and Wang.
Saragosa C. (2011), Città tra passato e futuro: un percorso critico sulla via di biopoli, Roma: Donzelli Editore.
Sartre J. P. (1971), «American cities», Literary and Philosophical Essays, Oxford: Oxford University Press.
Sgroi E. (2001), La città nel XX secolo: il successo infelice, in EnciclopediaItaliana. Eredità del Novecento, Enciclopedia Italiana Treccani.
Tafuri M. (1974), Frederick Law Olmsted (1822-1903) e le origini del planning negli Stati Uniti, Quaderni storici, Vol. 9, No. 27 (3), pp. 785-802.
Talen E. (2005), New Urbanism and American Planning: The Conflict of Cultures, New York, London: Routledge.
The Sierra Club (1999), The dark side of the American Dream: the costs and consequences of suburban sprawl, San Francisco, CA: The Sierra Club.
White M., White L. (1962), The intellectual versus the City, Cambridge, MA: Harvard University Press.
Yi-Fu Tuan (1974), Topophilia: A Study of Environmental Perception, Attitudes and Values, Englewood Cliffs, NJ: Prentice-Hall.
Zuddas F. (2019), The University as a Settlement Principle: Territorialising Knowledge in Late 1960s Italy, London, New York: Routledge.
Zukin S., (1982), Loft living. Culture and Capital in Urban Change,Piscataway: Rutgers University Press.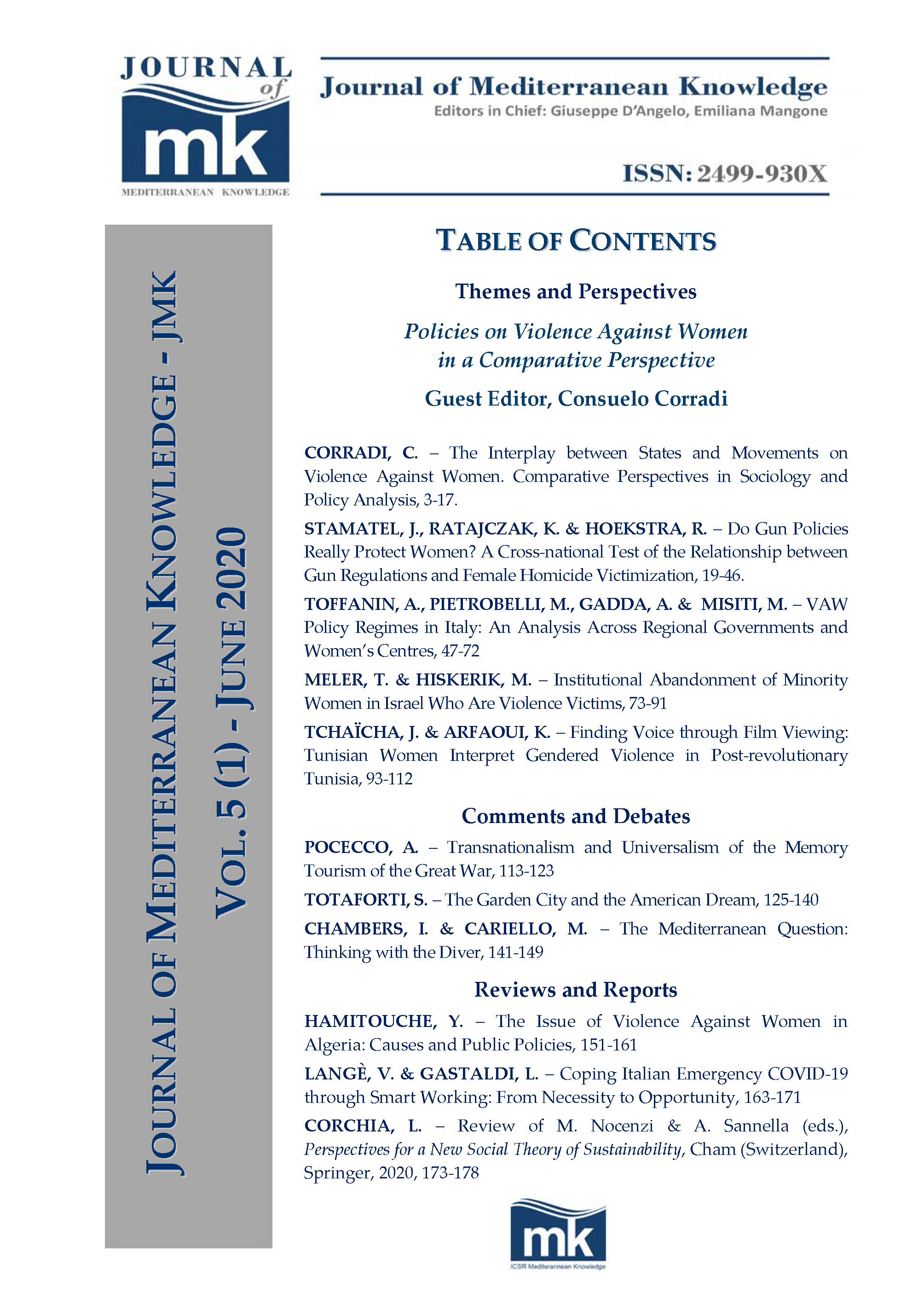 Section
Comments and debates
Authors who publish in this journal agree with the following points:
The author(s) guarantee(s) that the article is original and it has not previously published and it has not been sent to other journals for consideration.
The author(s) declare(s) that the work does not violate the copyright of third parties and assume the full personal and financial responsibility for any legal action which may be brought by third parties against the ICSR Mediterranean Knowledge
The author(s) retain(s) the rights of the work and grant to the ICSR Mediterranean Knowledge the right to publish the work in digital edition with the licence Creative Commons Attribution Licence 4.0 (CC BY-NC-ND) or in any other form that the publisher considers opportune for the maximum dissemination. This attribution allows others to share the work, indicating the authorship and the initial publication in this journal.
The authors can establish other arrangements with non-exclusive license to distribute the published version of the work (eg. deposit it in an institutional archive or publish it in a monograph), indicating that it was first published in the Journal of Mediterranean Knoweldge – JMK.
The author(s) can distribute the work online (eg. on their website) only after that it is published by the Journal of Mediterranean Knoweldge – JMK (see The Effect of Open Access).