The Interplay between States and Movements on Violence Against Women. Comparative Perspectives in Sociology and Policy Analysis
Keywords:
Violence against women, Gender violence, Women's movements, Feminist movements, Prevention policies, State policies
Abstract
In the last 25 years, women's movements, governments and international bodies have been active in awareness-raising on and reduction of violence against women (VAW). The main aim of this issue is to providean overview of comparative perspectivesof policies and services, which offer an innovative point of view to evaluate action. A comparative outlook on VAW initiatives can show acceleration or deceleration in decision-making, proliferation or scarcity of regulations, high or low effectiveness of plans and services in reaching set goals, and reasons why this is the case. The four articles of this issue present original research conducted on firearm policy on a global scale, comparative analysis of services in Italy, accessibility of VAW services in Israel and perceptions of VAW after film screening in Tunisia. The articles illustrate the level of interest that elicited by VAW, the complexities of the analysis and the local and global actors that play a role in action against this global problem.
References
Abraham M. & Tastsoglou E. (2016). Interrogating gender, violence and the state in national and transnational contexts. Current Sociology, 64 (4), 517-534.
Balmark D., Iovanni, L. & Pringle, K. (2009). A Reconsideration of Two "Welfare Paradises" Research and Policy Responses to Men's Violence in Denmark and Sweden. Men and Masculinities, 12 (2), 155-174.
Bumiller, K. (2009). In an Abusive State. Durham: Duke University Press.
Charles, N. and Mackay, F. (2013). Feminist politics and framing contests: Domestic violence policy in Scotland and Wales. Critical Social Policy 33 (4), 593-615.
Corradi, C.& Stöckl, H. (2016). The lessons of history: The role of the nation-states and the EU in fighting violence against women in 10 European countries.Current Sociology, 64(4), 671–688.
Creazzo, G. (2008). La costruzione sociale della violenza contro le donne in Italia [The social construction of violence against women in Italy], Studi della questione criminale, 3(2), 15-42.
Eriksson, M., Hester, M., Keskinen, S. & Pringle, K. (2005).Tackling Men's Violence in Families. Nordic Issues and Dilemmas. Bristol: The Policy Press.
Fraser, N. (1985 [2013]). What's critical about critical theory? The case of Habermas and gender. In N. Fraser,Fortunes of Feminism. From state-managed capitalism to neoliberal crisis. London: Verso, (pp. 19-51).
Hall, R. (2015). Feminist strategies to end violence against women. In R. Baksh & W. Harcourt (Eds.), The Oxford Handbook of transnational feminist movements, Oxford: Oxford University Press(pp. 392-415).
Harrington, C. (2010). Politicization of sexual violence: from abolitionism to peacekeeping. Farnham, England and Burlington, VT: Ashgate.
Hearn, J.& McKie, L. (2010). Gendered and social hierarchies in problem representation and policy processes: "Domestic violence" in Finland and Scotland. Violence Against Women, 16 (2), pp. 136-158.
Hearn, J., Strid, S., Husu, L.&Verloo, M. (2016). Interrogating violence against women and state violence policy: Gendered intersectionalities and the quality of policy in The Netherlands, Sweden and the UK. Current Sociology, 64(4), pp. 551-567.
Mazur, A. G. (2009). Les mouvements feministes et l'elaboration des politiques dans une perspective comparative[Feminist movements and the elaboration of policies in a comparative perspective]. Revue française de science politique, 59 (2), pp. 325-351.
Mazur, A. G., McBride, D. E. & Season Hoard, S. (2016). Comparative strength of women's movements over time: conceptual, empirical, and theoretical innovations. Politics, Groups, and Identities, 4 (4), pp. 652-676, DOI: 10.1080/21565503.2015.1102153.
Moghadam, V. (2015). Transnational Feminist Activism and Movement Building. In R. Baksh &W. Harcourt, The Oxford Handbook of Transnational Feminist Movements. Oxford: Oxford University Press, pp. 53-81.
Roggeband, C. (2012). Shifting Policy Responses to Domestic Violence in the Netherlands and Spain (1980-2009). Violence against Women, 18 (7), pp. 784-806.
Shepherd, L. J. (2019). Gender and violence. Tools to think with. In L. J. Shepherd Handbook on Gender and Violence. Cheltenham: Elgar, pp. 1-11.
Stewart, M. W. (2002). Ordinary violence: everyday assaults against women. Westport: Bergin & Garvey.
Weldon, S.L. (2002). Protest, Policy, and the Problem of Violence Against Women. Pittsburgh: The University of Pittsburgh Press.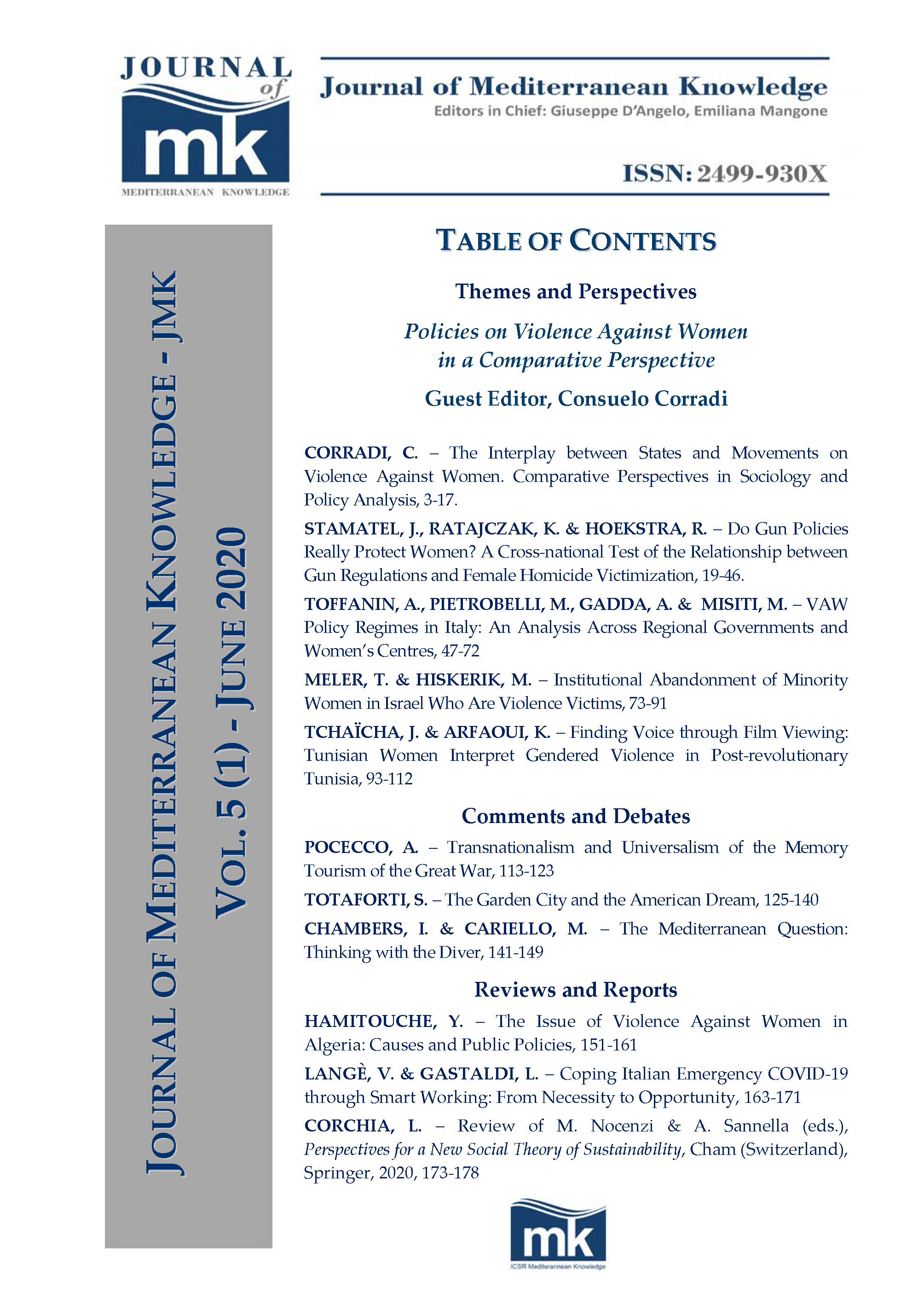 Section
Themes and perspectives
Authors who publish in this journal agree with the following points:
The author(s) guarantee(s) that the article is original and it has not previously published and it has not been sent to other journals for consideration.
The author(s) declare(s) that the work does not violate the copyright of third parties and assume the full personal and financial responsibility for any legal action which may be brought by third parties against the ICSR Mediterranean Knowledge
The author(s) retain(s) the rights of the work and grant to the ICSR Mediterranean Knowledge the right to publish the work in digital edition with the licence Creative Commons Attribution Licence 4.0 (CC BY-NC-ND) or in any other form that the publisher considers opportune for the maximum dissemination. This attribution allows others to share the work, indicating the authorship and the initial publication in this journal.
The authors can establish other arrangements with non-exclusive license to distribute the published version of the work (eg. deposit it in an institutional archive or publish it in a monograph), indicating that it was first published in the Journal of Mediterranean Knoweldge – JMK.
The author(s) can distribute the work online (eg. on their website) only after that it is published by the Journal of Mediterranean Knoweldge – JMK (see The Effect of Open Access).