Review of the invited symposium "CULTURAL PSYCHOLOGY: A NEW SCIENCE OF THE HUMAN NATURE" at the ICP 2016 in Yokohama on July 26, 2016
Kolja Lehmann-Muriithi

none
Abstract
This is a review of the symposium "Cultural Psychology: A new science of the human nature", which took place at the International Conference of psychology in Yokohama in 2016. The symposium was a collaborative effort of the editors and authors of the "Yokohama Manifesto" and its main goal was to make this Manifesto known to a wider audience. There were five groups of authors and co-authors who presented their findings in different areas of the developing field of Cultural Psychology in short talks, and five discussants commenting on their respective findings.
References
Lamiell, J. T. (1998): "`Nomothetic' and `Idiographic'" in Theory & Psychology, Vol 8, Issue 1, pp. 23-38
Lamiell, J. T. (2013): "Characterizing Selves and Others: A Personalistic Perspective" in Gordon Sammut, Paul Daanen, and Fathali M. Moghaddam (eds.): Understanding the Self and Others: Explorations in intersubjectivity and interobjectivity, London & New York: Routledge,pp. 96-111
Valsiner, J., Marsico, G., Chaudhary, N., Sato, T., Dazzani, V. (Eds.). (2016): Psychology as the Science of Human Being - The Yokohama Manifesto in the "Annals of Theoretical Psychology", New York: Springer, free preview at http://www.springer.com/us/book/9783319210933
Valsiner, J. (2016): Preface in Valsiner, J., et al. (2016) (pp. v-vii)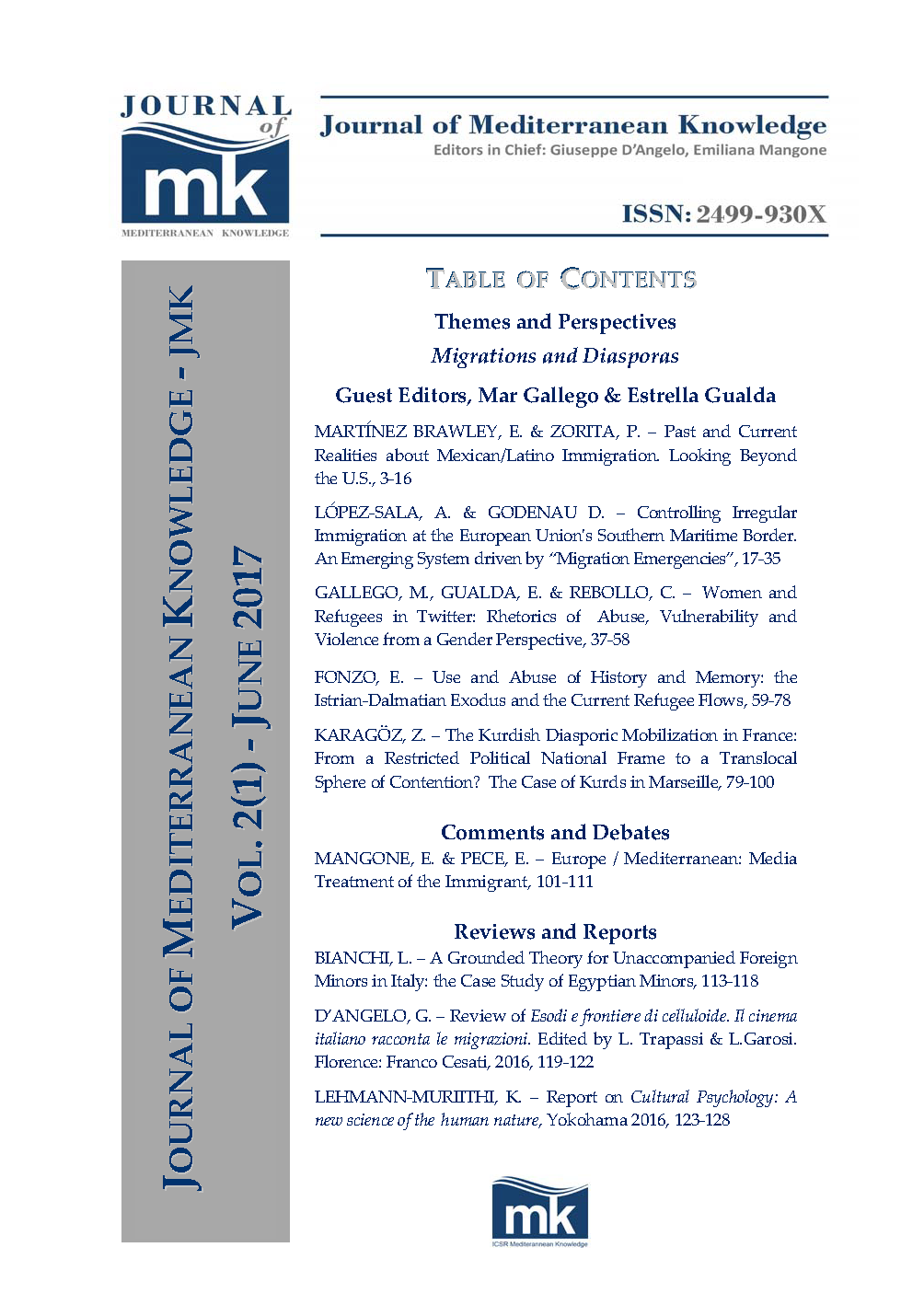 Section
Reviews and reports
Authors who publish in this journal agree with the following points:
The author(s) guarantee(s) that the article is original and it has not previously published and it has not been sent to other journals for consideration.
The author(s) declare(s) that the work does not violate the copyright of third parties and assume the full personal and financial responsibility for any legal action which may be brought by third parties against the ICSR Mediterranean Knowledge
The author(s) retain(s) the rights of the work and grant to the ICSR Mediterranean Knowledge the right to publish the work in digital edition with the licence Creative Commons Attribution Licence 4.0 (CC BY-NC-ND) or in any other form that the publisher considers opportune for the maximum dissemination. This attribution allows others to share the work, indicating the authorship and the initial publication in this journal.
The authors can establish other arrangements with non-exclusive license to distribute the published version of the work (eg. deposit it in an institutional archive or publish it in a monograph), indicating that it was first published in the Journal of Mediterranean Knoweldge – JMK.
The author(s) can distribute the work online (eg. on their website) only after that it is published by the Journal of Mediterranean Knoweldge – JMK (see The Effect of Open Access).