Past and Current Realities about Mexican/Latino Immigration. Looking Beyond the U.S.
Emilia Martinez-Brawley

College of Public Programs and Community Solutions, Arizona State University Phoenix, AZ, USA

Paz M-B. Zorita

College of Public Programs and Community Solutions, Arizona State University Phoenix, AZ, USA
Abstract
The literature including social media shows that Mexican/Latino immigrants have attracted contempt and have been traditionally objected to as a minority in the U.S. The intent here is to search for historical and other factors that might explain the public antipathy and to identify reasons that could, either in isolation or in combination with others, explain anti-immigrant sentiments among people, many of whom are descendants of immigrants. The perusal of the challenges of Mexican immigrants to the U.S through the decades will highlight some similarities related to discrimination against waves "peoples of colorâ€, not only in the U.S. but in other parts of the world. The daily treatment within the society of immigrants of color as well as the frequent lower immigration quotas imposed on certain groups, including Mediterranean people, makes the topic quite relevant to today's concerns. 
References
Alarcón, R. (2011). U. S. Immigration policy and the mobility of Mexicans (1882-2005). Migraciones Internacionales, 6(1), pp. 185-218.
Belluck, P. (2008). Settlement will allow thousands of Mexican laborers in U. S. to collect back pay. New York Times (Oct. 15, 2008).
Bleich, E. (2001, Tuesday May 1st). Race policy in France. The Brookings Institution.
Daniels, R. (1990). Coming to America. New York: HarperCollins Publishers.
De León, A. (1987). They called them greasers. Austin, TX: University of Texas Press.
Du Bois, W. E. B., The Souls of Black Folk. 1903. New York: New American Library, 1969.
Fletcher, M. A. & Fears, D. (2005). Washington Post, Nov. 29, washingtonpost.com, retrieved 4/24/17).
Fuentes, C. (1992). The burried mirror. New York: Houghton Mifflin.
Handbook of Texas Online, V. Carl Allsup, "Hernandez v. State of Texas," accessed April 27, 2017, http://www.tshaonline.org/handbook/online/articles/jrh01. Uploaded on June 15, 2010. Published by the Texas State Historical Association.
Iber, J. & De León, A. (2006). Hispanics in the American West. Santa Barbara, CA: ABC CLIO.
Immigration Act of 1917. In https://en.wikipedia.org/wiki/Immigration_Act_of_1917), retrieved, March 1, 2017.
Lukens, P. D. (2012). A quiet victory for Latino rights. Tucson, AZ: The University of Arizona Press.
Massey, D. S., Durand, J. & Malone, N. J. (2002). Beyond smoke and mirrors: Mexican immigration in an age of economic integration. New York: Russell Sage Foundation.
Massey, D. S. & Pren, K. A. (2012). Origins of the new Latino underclass. Race and Social Problems, 4, pp. 5-17.
McCarthy, J. (2015). Immigrant Status Tied to Discrimination among Hispanics, Gallup, August 20, 2015. (www.gallup.com/poll/184769/immigrant-status-tied-discrimination-among-hispanics.aspx), retrieved April 30,2017.
McSeveney, S. (1987). Immigrants, the literacy test, and quotas: Selected American history college textbooks' coverage of the congressional restriction of European Immigration, 1917-1929. The History Teacher, 21(1), pp. 41-51. Retrieved Dec. 13, 2016.
Newman, N. (2005) The Border is the Color Line of the 21st Century. Common Dreams, August 27, 2017. First published August 18, 2005. (https://www.commondreams.org/views05/0818-32.htm
New Mexico Constitution, Art.XX-12 (1912). (www.diversitylearningk12.com , retrieved, Dec. 9, 2016).
New York Times (2017). Steve King Says Civilization Can't Be Restored With 'Somebody Else's Babies', byline Matthew Haag, March 12 (http://www.Nytimes.com) retrieved May 2, 2017)
Ortiz, V. & Telles, E. (2012). Racial identity and racial treatment of Mexican Americans. Race and Social Problems, 4(1), pp. 1-19. https://www.ncbi.nih.gov/pmc/articles/PMC3846170, retrieved Feb. 1, 2017.
Papademetriou, D. G. & Banulescu-Bogdan, N. (2016). Understanding and Addressing Public Anxiety about Immigration. Transatlantic Council on Migration. Migration Policy Institute.
Rosales, F. A. (1997). Chicano! Houston: TX: Arte Público Press.
Steward, K. L. & De León, A. (1993). Not room enough. Albuquerque, NM: University of New Mexico Press.
Wikipedia, The Free Encyclopedia, White People. (https://en.wikipedia.org/wiki/White_people) retrieved. 4/17, 2017
Zong, J. & Batalova, J. (2016). Mexican Immigrants in the United States. http://www.migrationpolicy.org/article/mexican-immigrants-united-states?gcl … , retrieved Mar. 1. 2017.
http://www.history.com/this-day-in-history/the-u-s-acquires-spanish-florida (retrieved April 10, 2017)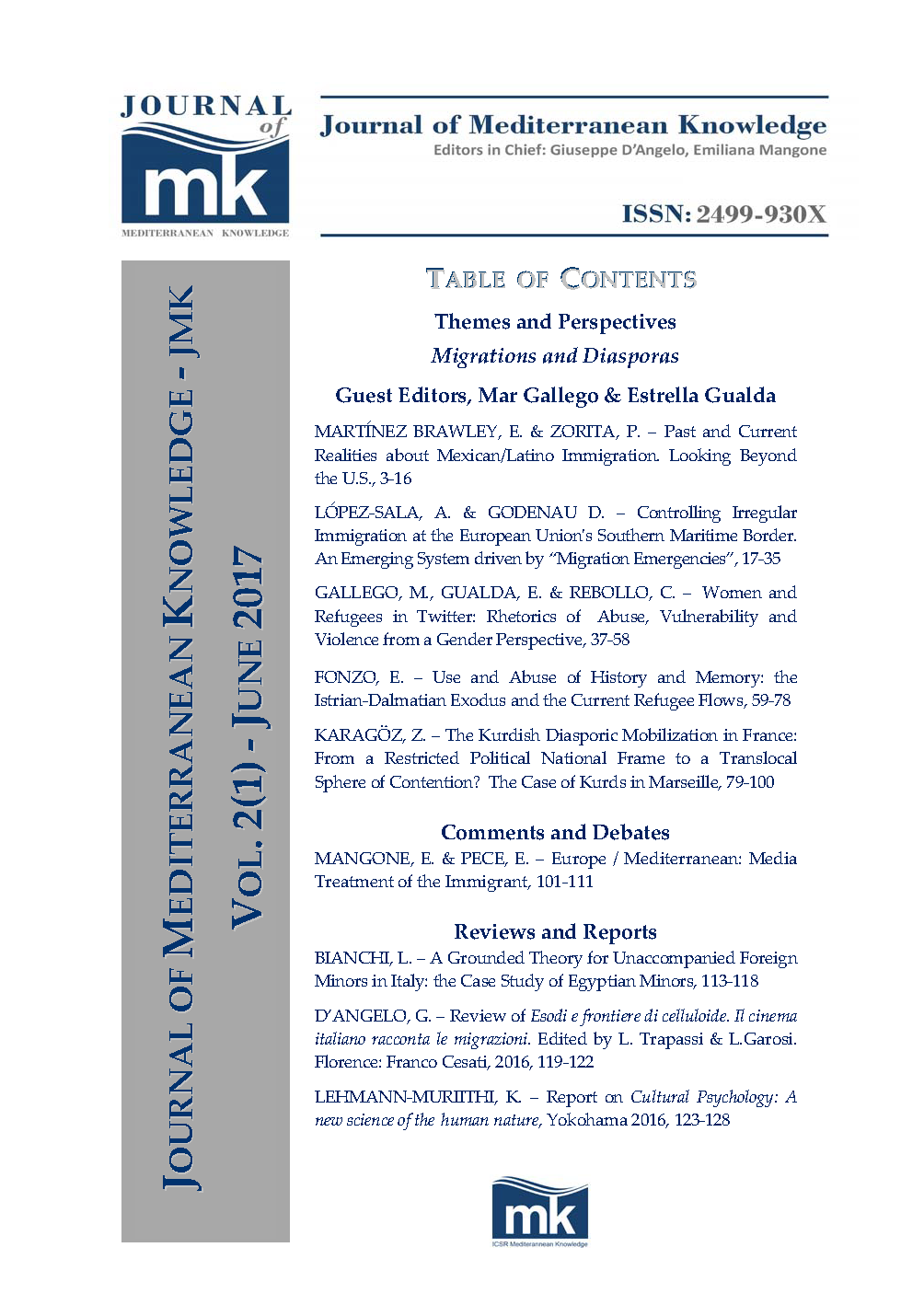 Section
Themes and perspectives
Authors who publish in this journal agree with the following points:
The author(s) guarantee(s) that the article is original and it has not previously published and it has not been sent to other journals for consideration.
The author(s) declare(s) that the work does not violate the copyright of third parties and assume the full personal and financial responsibility for any legal action which may be brought by third parties against the ICSR Mediterranean Knowledge
The author(s) retain(s) the rights of the work and grant to the ICSR Mediterranean Knowledge the right to publish the work in digital edition with the licence Creative Commons Attribution Licence 4.0 (CC BY-NC-ND) or in any other form that the publisher considers opportune for the maximum dissemination. This attribution allows others to share the work, indicating the authorship and the initial publication in this journal.
The authors can establish other arrangements with non-exclusive license to distribute the published version of the work (eg. deposit it in an institutional archive or publish it in a monograph), indicating that it was first published in the Journal of Mediterranean Knoweldge – JMK.
The author(s) can distribute the work online (eg. on their website) only after that it is published by the Journal of Mediterranean Knoweldge – JMK (see The Effect of Open Access).