Freedom and Forgiveness: In Debate With Paul Ricoeur Philosophy of the Will
Guilhem Causse

Centre Sèvres, Facultés Jésuites de Paris
Abstract
The question of forgiveness arose for Paul Ricoeur from the first moment of his phenomenology of the will. Isolating consciousness in order to describe its structure, especially that of its willing dimension (freedom), presupposes a distancing from the world, but also a distancing from evil. The precondition of this distancing is forgiveness. Forgiveness appears when consciousness is ready to reject the finitude that, of necessity, opposes itself to freedom: this 'face' of freedom, distinguished from the articulation of phenomenology and hermeneutics, is the admiration carried by Stoic and Orphic myths. Freedom appears next when the suffering endured at the hands of another challenges one's freedom: this essay will develop what Ricoeur could only sketch regarding the idea of "Franciscan†hope. Forgiveness appears, finally, when Ricoeur explores it in connection with guilt. In conclusion, we will seek to find the unity shared between these three 'faces' of forgiveness.
References
[Anonymous 2014]
Ricoeur, P. (1965). History and Truth. Evanston: Northwestern University Press.
Ricoeur, P. (1966). Freedom and Nature: The Voluntary and the Involuntary. Evanston: Northwestern University Press.
Ricoeur, P. (1967). The Symbolism of Evil. Boston : Beacon Press.
Ricoeur, P. (1992). Oneself as Another. Chicago: University of Chicago Press.
Ricoeur, P. (2004). Memory, History, Forgetting. Chicago and London: The University of Chicago Press.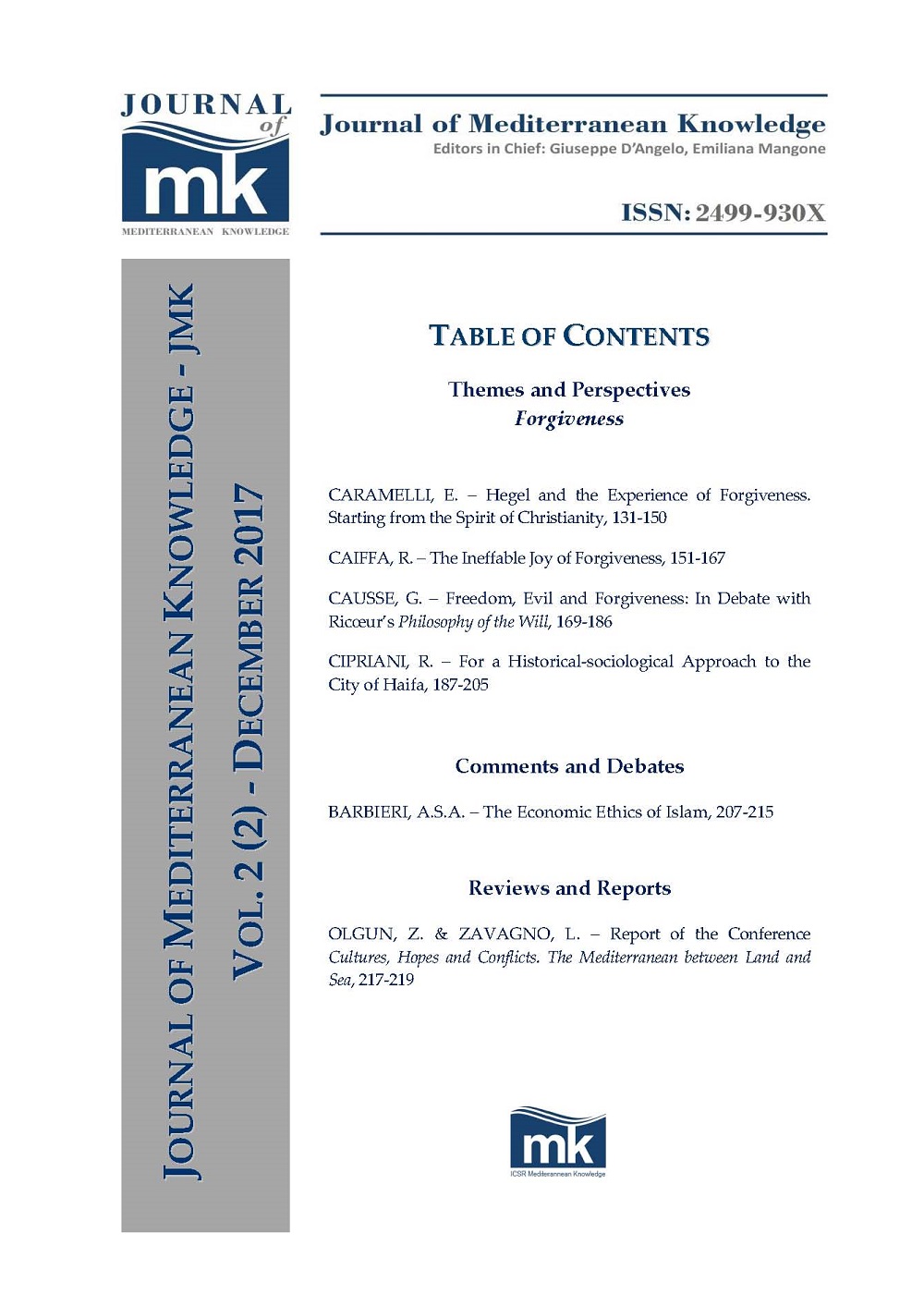 Section
Themes and perspectives
Authors who publish in this journal agree with the following points:
The author(s) guarantee(s) that the article is original and that it has not previously published nor sent to other journals for consideration.
The author(s) declare(s) that the article does not violate the copyright of third parties and assume(s) the full personal and financial responsibility for any legal action which may be brought by third parties against the ICSR Mediterranean Knowledge
The author(s) retain(s) the rights of the article. The ICSR Mediterranean Knowledge is allowed to publish it in digital edition with licence Creative Commons Attribution Licence 4.0 (CC BY-NC-ND) or in any other form that the publisher considers opportune. The licence allows others to share the article, provided that the authorship and the initial publication in this journal are reported.
The author(s) can establish arrangements with non-exclusive license to distribute the published version of the article (eg. deposit it in an institutional archive or publish it in a monograph), indicating that it was first published in the Journal of Mediterranean Knoweldge.
The author(s) can distribute the work online (eg. on their website) only after that it is published by the Journal of Mediterranean Knoweldge (see The Effect of Open Access).