The aesthetics of pity. Italian media representation of migrants and emotional audience.
Antonia Cava

University of Messina

Mariaeugenia Parito

University of Messina

Francesco Pira

University of Messina
Abstract
Public debates on migration oscillate between two conflicting claims: on the one hand, compassion and protection, on the other hand, rejection and fear. Both representations are more focused on emotional reactions than rational reflections. The media hyper-simplification concurs to a social representation of migration that is currently distorting real-life experiences to such an extent that the spectacularization of migrants brings about problems in terms of their negative self-representations. Furthermore, information about migrants reported by media is usually decontextualized, worsening this state of affairs. Media do not encourage the audience to give evaluations about specific topics, thus framing an agenda of issues to reflect on, so that the presentation of a topic does not cause prejudice or influence a course of action, but favour its contextualization. Consequently, the complex phenomenon of migration is concealed in many degrees and ways by the Italian media system. Starting from this assumption, we argue that these kinds of representation do not allow the audience to understand the complexity of the question, indeed feeding populism and influencing European and national policies to manage migration. In particular, emotional representations conceal the central issue of the potential breaking of fundamental rights claimed in the European Union Charter of Fundamental Rights.
References
Ambrosini, M. (2015a). L'asilo reticente. Il Mulino, 6, 1018-1026.
Ambrosini, M. (2015b). Richiesti e respinti. L'immigrazione in Italia come e perché. Roma: Il Saggiatore.
Belluati, M., Grossi, G., Viglongo E. (1995). Mass Media e società multietnica. Milano: Anabasi.
Bauman, Z. (2006). Liquid Fear. Polity Press. Cambridge (tr. it. Paura Liquida, Roma-Bari Laterza, 2010).
Bauman, Z. (2008). Intervista sull'Identità . Roma-Bari: Editori Laterza.
Bauman, Z., Mauro, E. (2015). Babel. Roma-Bari : Editori Laterza.
Beck, U. (2012a). La crisi dell'Europa. Bologna: Il Mulino.
Beck, U. (2012b). Desdeutsche Europa.Suhrkamp Verlag. Berlin (tr. it. Europa tedesca. La nuova geografia del potere. Laterza. Roma-Bari, 2013).
Beck, U., Grande, E. (2004). Das kosmopolitische Europa. Gesellsschaft und Politik in der Zweiten Moderne.Suhrkamp Verlag.Frankfurt (tr. it. L'Europa cosmopolita. Società e politica nella seconda modernità . Carocci. Roma, 2006).
Berger, P., Luckmann, T. (1966). The Social Construction of Reality: A Treatise in the Sociology of Knowwledge. New York: Random House.
Binotto, M., Bruno, M., Lai, V. (eds.) (2012). Gigantografie in nero. Lulu Press.Raleigh (North Carolina).
Binotto, M., Martino, V. (eds.) (2004). Fuori Luogo. Cosenza: Pellegrini.
Boltanski, L. (2000).Lo spettacolo del dolore. Milano: Cortina.
Boccia Artieri, P. (2014). Pubblici connessi. Milano: Franco Angeli.
Boomgaarden, H.G., & Vliegenthart, R. (2009). How news content influences antiâ€immigration attitudes: Germany, 1993–2005. European Journal of Political Research, 48(4), 516–542.
Brighenti, A. (2006). Oltre l'integrazione. Un esercizio di immaginazione sociologica sulla migrazione. Sociologia del diritto. 3, 139-147.
Bruno, M. (2008). L'Islam immaginato. Rappresentazioni e stereotipi nei media italiani. Milano: Guerini & Associati.
Bruno, M. (2015). The journalistic construction of "Emergenza Lampedusaâ€: The 'Arab Spring' and the 'landings' issue in media representations of migration. In E. Bond, G. Bosaver, & F. Faloppa (Eds.), Destination Italy: Representing migration in contemporary Media and Narrative. Oxford: Peter Lang: 59–83.
Calvanese, E. (2011). Media e immigrazione tra stereotipi e pregiudizi. La rappresentazione dello straniero nel racconto giornalistico. Roma: Franco Angeli.
Carzo D., Centorrino M. (1999).L'immigrazione albanese sulla stampa quotidiana. Working Papers del Cirsdig.
Castells, M. (1996). The Rise of the Network Society. Oxford: Blackwell Publishing LTD. (tr. it. La nascita della società in rete. EGEA. Milano, 2002).
Castells, M. (1997). The Power of Identity. Oxford: Blakwell Pubblishers. (tr. it. Il potere delle identità . Egea. Milano, 2003).
Castells, M. (2009). Communication Power. Oxford University Press (tr. it. Comunicazione e Potere. EGEA. Milano, 2009).
Castels, S. (2009). Le migrazioni internazionali agli inizi del ventunesimo secolo: tendenze e questioni globali. In: M. Ambrosini and E. Abbatecola (eds.), Migrazioni e società . Una rassegna di studi internazionali (43-64). Milano: Franco Angeli.
Cava, A. (2011). L'immigrato immaginato. Racconti mediali a confronto. Quaderni di Intercultura. anno III, 11-14.
Cava, A., Pira, F. (2015). Social Gossip. Dalla chiacchiera di cortile al web pettegolezzo. Roma: Aracne Editrice.
Charter of Rome (2008). Protocollo deontologico concernente richiedenti asilo, rifugiati, vittime della tratta e migranti.
Chebel d'Appollonia, A. (2012). Frontiers of Fear. Immigration and Insecurity in the United States and Europe. New York: Cornell University Press.
Chouliaraki, L. (2006). The Spectatorship of Suffering. London: Sage.
Chouliaraki, L. (2012). Between Pity and Irony. Paradigms of Refugee Representation in Humanitarian Discourse. In K. Moore, B. Gross & T. Threadgold (Eds.), Migrations and the Media. New York: Peter Lang: 3-31.
Cuttitta, P. (2012). Lo spettacolo del confine. Milano: Mimesis.
Cuttitta, P. (2012). Lo spettacolo del confine: Lampedusa. InTrasformazione. Rivista di Storia delle Idee. 1:2.
Dal Lago, A. (1999). Non-persone. L'esclusione dei migranti in una società globale. Milano: Feltrinelli.
Dal Lago, A. (2012). Carnefici e spettatori. La nostra indifferenza verso la crudeltà . Milano: Raffaello Cortina Editore.
De Swert, K., Schacht, L., & Masini, A. (2015). More than Human Tragedy? A Quantitative Comparison of Newspaper Coverage on Irregular Migration and Lampedusa in Five European Countries. Italian Studies 70(4): 506-520.
Faso, G. (2008). Lessico del razzismo democratico. Le parole che escludono. Roma: Derive Approdi.
Gariglio, L., Pogliano, A., Zanini, R. (2010). Facce da straniero. 30 anni di fotografia e giornalismo sull'immigrazione in Italia. Milano: Mondadori.
Gemi, E., Ulasiuk, I., & Triandafyllidou, A. (2013): Migrants and media newsmaking practices, Journalism Practice 7(3): 266-281.
Gili, G. (2001). Il problema della manipolazione: peccato originale dei media? Milano: Franco Angeli.
Gili, G. (2005). La credibilità . Quando e perché la comunicazione ha successo. Soveria Mannelli: Rubettino.
Giusti, M. (2015). Immigrazione e consumi culturali. Un'interpretazione pedagogica. Roma-Bari: Laterza.
Habermas, J. (1999). Solidarietà tra estranei. Interventi su Fatti e Norme. Milano: Guerini e Associati.
Habermas, J. (2012).Questa Europa è in crisi. Roma-Bari: Laterza.
Habermas,, J. (2014). Nella spirale tecnocratica. Un'arringa per la solidarietà europea. Roma-Bari: Laterza.
Hajjat A.; Mohammed, M. (2013). Islamophobie.Comment les élites françaises construisent le «problème musulman». Paris: La Découverte.
HÅ'ijer, B. (2004). The discourse of global compassion: the audience and media reporting of human suffering. Media, Culture and Society, vol. 26, 4, 513-531.
Istat (2012). I migranti visti dai cittadini. Roma.
La Rocca G., Torvisco J. (2017). Anamorfosi del terrorismo. La narrazione degli attacchi terroristici nella stampa italiana. Mediascapes Journal, 178-193.
Maneri, M. (2001). Il panico morale come dispositivo di trasformazione dell'insicurezza. Rassegna Italiana di Sociologia. a. XLII, 1, 5-40.
Maneri, M. (2012). L'immigrazione nei media. La traduzione di pratiche di controllo nel linguaggio in cui viviamo. Anuac. 1, 1, 24-37.
Marchetti C. (2009), Gli esclusi della democrazia. Gli immigrati e i confini della cittadinanza.La società degli individui. 36, XII, 3, 51-65.
Martinelli, A. (2013). Mal di Nazione. Contro la deriva populista. Milano: Egea.
Marzo P. , Tramontana A. (2017). L'immaginario dell'Isis e i suoi effetti di realtà nell'ordine mondiale. In A. Cava, S. Nucera (a cura di), Decodifiche criminali. Saggi su illegalità e comunicazione. Roma-Messina: Corisco.
Massari, M. (2006). Islamofobia. La paura e l'islam. Roma-Bari: Editori Laterza.
Morozov, E. (2011). The Net Delusion. The Dark Side of Internet Freedom (tr. it. L'ingenuità della rete. Il lato oscuro della libertà di internet. Codice edizioni. Torino, 2011).
Musarò, M., Parmiggiani, P. (eds.) (2014). Media e migrazioni. Etica, estetica e politica del discorso umanitario. Milano: Franco Angeli.
Parito, M., Comunicare l'Unione europea. La costruzione sociale di un progetto in divenire. Milano: Franco Angeli.
Pogliano, A., Solaroli, M. (2012). La costruzione visiva dell'immigrazione nella stampa italiana. Fotografie giornalistiche e cornici culturali meta-comunicative. Studi culturali. 9 (3), 371-399.
Report Charter of Rome (2016). Notizie oltre i muri.
Report on Safety in Italy and in Europe (2017). Significati, immagini e realtà . Percezione, rappresentazione mediatica e sociale della sicurezza.
Rodotà , S. (2012). Il diritto di avere diritti. Bari-Roma: Laterza.
Rodotà , S. (2016). Solidarietà . Un'utopia necessaria. Bari-Roma: Laterza.
Sayad, A. (2002). La doppia assenza. Milano: Cortina.
Shaw, E.F. (1979). Agenda-Setting and Mass Communication Theory. Gazette. 25, 96-105.
Simeon, M., I., Stazio, M. (2007). L'immigrato consumatore di prodotti culturali, di beni e servizi: il modello del mercato come percorso di integrazione. Aspetti teorici e riscontri empirici. Stranieri a Milano, 207-222.
Solano, G. (2014). Da extracomunitario a clandestino: l'immigrato nei discorsi dei media. In M. Musarò and P. Parmiggiani (eds.), Media e migrazioni. Etica, estetica e politica del discorso umanitario (pp. 109-123). Milano: Franco Angeli.
Weber, E. (2003). The myth of the nation-state and the creation of the "otherâ€. Critical Review. 3-4, 387-402.
Wihtol de Wenden, C. (2015). Il diritto di migrare. Roma: Ediesse.
Zanfrini, L. (2014). Sociologia delle migrazioni. Roma-Bari: Laterza.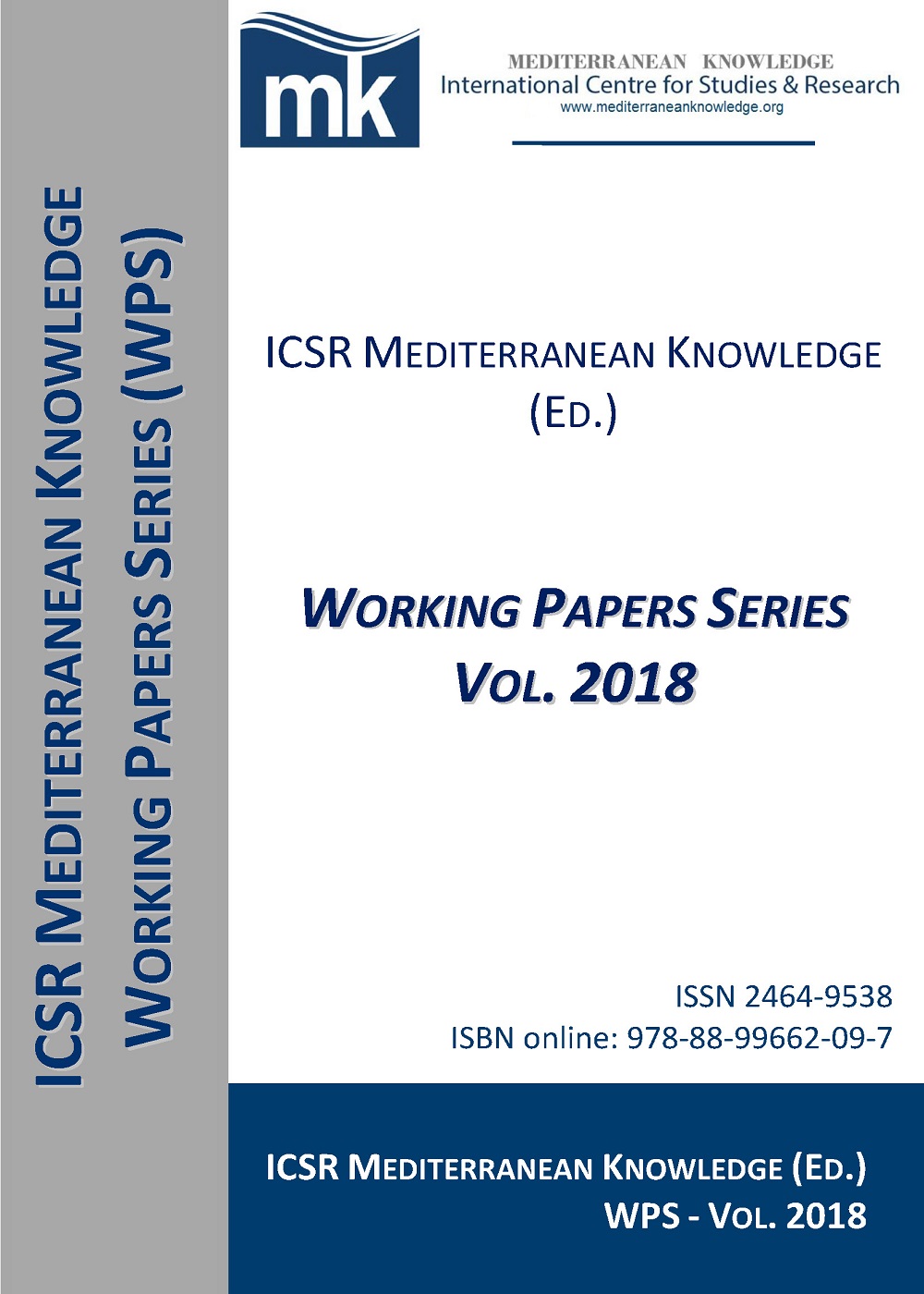 Authors who publish in this Working Papers Series agree with the following points:
The author(s) guarantee(s) that the article is original and it has not previously published and it has not been sent to other series for consideration.
The author(s) declare(s) that the work does not violate the copyright of third parties and assume the full personal and financial responsibility for any legal action which may be brought by third parties against the ICSR Mediterranean Knowledge
The author(s) retain(s) the rights of the work and grant to the ICSR Mediterranean Knowledge the right to publish the work in digital edition with the licence Creative Commons Attribution Licence 4.0 (CC BY-NC-ND) or in any other form that the publisher considers opportune for the maximum dissemination. This attribution allows others to share the work, indicating the authorship and the initial publication in this Working Paper Series.
The authors can establish other arrangements with non-exclusive license to distribute the published version of the work (eg. deposit it in an institutional archive or publish it in a monograph), indicating that it was first published in Working Papers Series of the ICSR Mediterranean Knowledge
The author(s) can distribute the work online (eg. on their website) only after that it is published by the Working Papers Series of the ICSR Mediterranean Knowledge (see The Effect of Open Access).