Re-membering Borderless and Bordered Childhood in Cyprus: A Case Study on the Limits and Prospects of Oral Histories
Ozlem Caykent

Istanbul 29 Mayis University

Mesude Atay

Okan University
Abstract
Over the last century, 'childhood' has become a major field of study as childhood is an important stage in the formation of individual identity, and adult narratives of childhood reveal interesting data on both personal experiences and public memories. These memories are important to be captured especially in societies where perceptions of difference change and borders emerge. This article explores the complex narratives of history and cultural construction of childhood in Cyprus from such a perspective. Our aim is to assess the narratives of the borderless to a bordered Cypriot society dwelling mostly on Turkish Cypriot informants whose childhood was in the 1930s to the 1970s.
References
Altan, Mustafa Haşim. (1997). Atatürk Devrimlerinin Kıbrıs Türk Toplumuna Yansıması. Ankara: KKTC Milli Eğitim, Kültür, Gençlik ve Spor Bakanlığı Yayınları.
Amussen, Jan. (2006). "Introduction to Disturbances in Cyprus, October 1931.†Çaykent, Özlem (ed.). "Disturbances in Cyprus October, 1931, Dispatch from the Governor of Cyprusto the Secretary of State for the Colonies.†Journal of Cyprus Studies 12.
Anastasiou, Harry. (2002, Sept). Communication across Conflict Lines: The Case of Ethnically Divided Cyprus. Journal of Peace Research, 581-596.
Anastasiou, Harry. (2008). The Broken Olive Branch, Nationalism, Ethnic Confict, and the Quest for Peace in Cyprus. Vol I. New York: Syracuse University Press.
Anderson, Malcolm. (1996). Frontiers: Territory and State Formation in the Modern World. Cambridge: Polity Press.
Bal, Mieke & Crewe, Jonathan V.& Spitzer, Leo. (1999). Act of Memory: Cultural Recall in the Present. Hanover, NH: University Press of New England.
Beckingham, Charles F. (1957, 1/2). Islam and Turkish Nationalism in Cyprus. Die Welt des Islams, New Series, 5, 66.
Bhabha, Homi, K. (1967).'Remembering Fanon.` Frantz, Fanon. Black Skin White Masks. London: Pluto Press.
Bryant, Rebecca. (2002 Sept.). "The Purity of Spirit and the Power of Blood: A Comparative Perspective on Nation, Gender and Kinship in Cyprus.†The Journal of the Royal Anthropological Institute 8, 509- 530.
Calotychos, V. (Ed.). (1998) Cyprus and Its People: Nation, Identity and Experience in an. Unimaginable Community. Boulder: Westview Press.
Coşar, Ömer Sami. (1957, Sept 31) Halkın Sesi.
Cunningham, Hugh (1991). The Children of the Poor: Representations of Childhood since the Seventeenth Century. Oxford, Blackwell.
Cunningham, Hugh. (1995). Children of the Poor; and Children and Childhood in Western Society Since 1500. London, New York: Longman.
Demiryürek, Mehmet. (2005). II. Dünya Savaşı'nda Kıbrıs Alayı ve Lefkeli Mustafa Zeki Şakir'in Anıları. Lefkoşa: Işık Kitapevi.
Fedai, Harid. (2005). Kıbrıs Türk Kültürü Makaleler-I. Lefkoşa: Özyay Matbaacılık.
Fevzioğlu, Bülent. (2004). "D. Hafız Cemal'in Yayıncılığı ve Dr. Hafız Cemal'le İlgili Yayınlar,†İz Bırakmış Kıbrıslı Türkler-2. Gazimoğusa: Doğu Akdeniz Üniversitesi Basımevi.
Frisch, Michael. (1990). A Shared Authority: Essays on the Craft and Meaning of Oral and Public History. Albany: State University of New York Press.
Gary, Gumpert, & Drucker, Susan J. (1998). Communication Across Lands Divided: The Cyprus Communication Landscape. In Calotychos, Vangelis (Ed.). (1998) Cyprus and its People: Nation, Identity and Experience in an Unimaginable Community, 1955–1997. Boulder, CO: Westview.
Gazioğlu, Ahmet C. (2000). Direniş Örgütleri, Gençlik Teşkilatıve Sosyo-Ekonomik Durum. Ankara: Kıbrıs Araştırma ve Yayın Merkezi.
Grele, Ronald J. (1991). Envelopes of Sound: the Art of Oral History, 2nd ed. New York: Praeger.
Hamilton Paula & Shopes, Linda. (2008). Oral History and Public Memories. Philadelphia: Temple University Press.
Heywood, Colin. (2001) A History of Childhood: children and childhood in the West from medieval to modern Times. Cambridge: Blackwell.
James, A. & Prout, A. (eds). (1990). Constructing and Reconstructing Childhood: Contemporary Issues in the Sociological Study of Childhood. Oxford: Routledge..
Kızılyürek, Niyazi. (2002). Milliyetçilik Kıskacında Kıbrıs. İstanbul: İletişim.
Kızılyürek, Niyazi. (2005). Doğmamış Bir Devletin Tarihi: Birleşik Kıbrıs Cumhuriyeti. İstanbul: İlitişim.
Paasi, Anssi. (2007). 'Region-Building, Boundaries and Identities in a Globalizing World, Northern Encounters.' Tromsae, August 6-8, from http://uit.no/getfile.php?PageId=1671&FileId=160.
Papadakis, Yiannis. (1998 May). "Greek Cypriot Narratives of History and Collective Identity: Nationalism as a Contested Process,†American Ethnologist, 25, 149-165.
Papadakis, Yiannis. (2008). "Report 2008: History Education in Divided Cyprus: A Comparatison of Greek Cypriot andTurkish Cypriot Schoolbooks on the "History ofCyprus.†History and Memory,2, 128-48.
Passerini, Luisa. (1987). Fascism in Popular Memory: the Cultural Experience of the Turin Working Class. Cambridge: Cambridge University Press.
Pollis, Adamantia (1973, July). Intergroup Conflict and British Colonial Policy: The Case of Cyprus. Comparative Politics, 5, 575-599.
Pollis, Adamantia. (1973, July). Intergroup Conflict and British Colonial Policy: The Case of Cyprus.†Comparative Politics, 5, 575-599.
Solsten, Eric (Ed). (1991). Cyprus, a Country Study. Washington DC: Library of Congress Catologing-in-Publication Data.
Sommerville, J. (1982) The Rise and Fall of Childhood. Beverly Hills, London.
Taeuber, I. B. (1955, January). Cyprus: The demography of a strategic Island. Population Index, 4-20.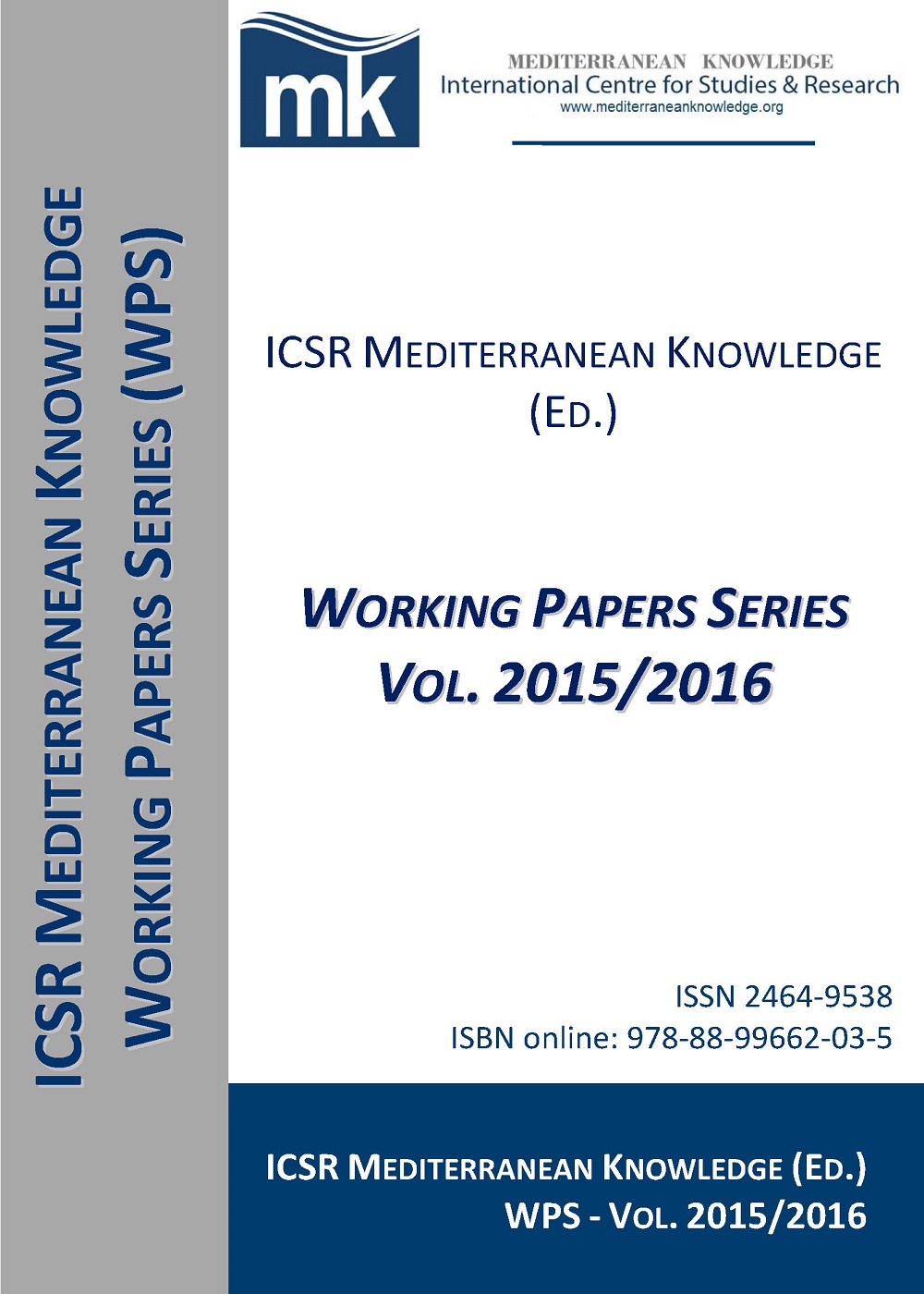 Authors who publish in this Working Papers Series agree with the following points:
The author(s) guarantee(s) that the article is original and it has not previously published and it has not been sent to other series for consideration.
The author(s) declare(s) that the work does not violate the copyright of third parties and assume the full personal and financial responsibility for any legal action which may be brought by third parties against the ICSR Mediterranean Knowledge
The author(s) retain(s) the rights of the work and grant to the ICSR Mediterranean Knowledge the right to publish the work in digital edition with the licence Creative Commons Attribution Licence 4.0 (CC BY-NC-ND) or in any other form that the publisher considers opportune for the maximum dissemination. This attribution allows others to share the work, indicating the authorship and the initial publication in this Working Paper Series.
The authors can establish other arrangements with non-exclusive license to distribute the published version of the work (eg. deposit it in an institutional archive or publish it in a monograph), indicating that it was first published in Working Papers Series of the ICSR Mediterranean Knowledge
The author(s) can distribute the work online (eg. on their website) only after that it is published by the Working Papers Series of the ICSR Mediterranean Knowledge (see The Effect of Open Access).