Transition vers l'âge adulte et trajectoires d'individualisation. Une analyse des « modernités » à travers le cas du Maroc
Abstract
Depuis ses travaux fondateurs, la sociologie a le plus souvent associé modernité et individualisation croissante. La notion d'individu est en effet présentée comme centrale quand il s'agit d'analyser le passage d'une société « traditionnelle » à une société « moderne » [Dumont, 1983].
À partir d'un corpus de recherches menées par des sociologues qui s'intéressent aux constructions sociales de la jeunesse aujourd'hui au Maroc [Bennani-Chraïbi, 1994 ; Bourqia 2000 ; Dialmy 2000], cette contribution analyse la phase de transition vers l'âge adulte comme terrain d'étude pour interroger les parcours d'individualisation. Comment peut-on définir la dynamique de l'individualisation dans une société où les logiques du changement social et de la modernisation sont parfois définies comme étant différentes voire opposées par rapport à la « modernité occidentale » ?
Aujourd'hui le Maroc traverse une phase de véritable transition historique, et la jeunesse en est l'un des acteurs sociaux principaux. Le jeune adulte marocain – et notamment le jeune qui habite dans les centres urbains du pays, issu de milieux sociaux privilégiés, diplômé – semble pouvoir être décrit comme l'emblème d'un nouveau modèle d'individu-en-société [Elias, 1991]. Il est le témoin d'une nouvelle manière d'entendre la modernisation [Eisenstadt, 2000] où « tradition » et présent se conjuguent en suivant des parcours inédits.
References
Affaya, N., Guerraoui, D. [2006], Le Maroc des jeunes, Rabat, Publications de l'ARCI.
Aldeeb Abu-Sahlieh, S. A. [2009], Mariage temporaire et coutumier en droit musulman,
http://www.sami-aldeeb.com/articles/view.php?id=184&action=french-mariage-temporaire-et-coutumier-en-droit.
Beamish J., Abderrazik L.T. [2003], Adolescent Reproductive Health in Morocco: Status, Issues, Policies, and Programs, January, 2003, Policy Project Publications.
Beck U. [(1986) 2001], La société du risque. Sur la voie d'une autre modernité, Paris, Aubier.
Bennani-Chraïbi M. [1994], Soumis et rebelles: les jeunes au Maroc, Paris, CNRS Éditions.
Bennani-Chraïbi M., Farag I. [2007], Jeunesses des sociétés arabes. Par-delà les menaces et les promesses, Le Caire, CEDEJ/Aux lieux d'être.
Bouhdiba A. [2004], La sexualité en islam, Paris, PUF.
Bourqia R. [2000], Les jeunes et les valeurs religieuses, Casablanca, EDDIF.
Breviglieri M., Cicchelli V. [2007], Adolescences méditerranéennes. L'espace public à petits pas, Paris, Agora-Injep/L'Harmattan.
Cavalli A., Galland O. [1993], L'allongement de la jeunesse, Arles, Actes du Sud.
Dialmy A. [2000], Jeunesse, Sida et Islam au Maroc, Casablanca, EDDIF.
Domingo A., Bayona J. [2009], « Youths and Mediterranean: From Aesthetics to Demography », in Quaderns de la Mediterrà nia, n.11, Dossier Youth and Mediterranean Challenges, Spain, IEMed, pp. 19-28.
Durkheim E. 1893 [2007], De la division du travail social, Paris, PUF.
Dumont L. [1977], Homo Aequalis I. Genèse et épanouissement de l'idéologie économique, Paris, Gallimard.
Dumont L. [1983], Essais sur l'individualisme. Une perspective anthropologique sur l'idéologie moderne, Paris, Seuil.
Eisenstadt S. N. [2000], « Multiple Modernities », in Daedalus, n. 129 pp. 1-29,
Elias N. [1991], La société des individus, Paris, Fayard.
EuroMed Youth III Programme [2008], Studies on Youth Policies in the Mediterranean Partner Countries, EuroMed Youth Publications.
El Ayadi M., Rachik H., Tozy M. [2007], L'islam au quotidien. Enquête sur les valeurs et les pratiques religieuses au Maroc, Casablanca, Éditions Prologues.
Fargues P. [2001], Jeunesse du monde arabe: défis et opportunités. Dossier thématique de la revue Monde Arabe. Maghreb-Machrek, n.171-172, Paris, La Documentation française.
Kash S. [2001], « La modernité et son autre. Problématique Occident/Orient », in Parizeau M.-H., Kash S. (dir.), Pluralisme, Modernité, Monde Arabe, Québec, Presses de l'Université Laval, pp. 71-122.
Kerrou M., Kharoufi M. [1996], « Maghreb. Familles, valeurs et changements sociaux », in Monde Arabe Maghreb-Machrek, n. 153, pp. 26–39.
Martinelli A. [1998], La modernizzazione, Roma-Bari, Laterza.
Martuccelli D. [2002], Grammaires de l'individu, Paris, Gallimard.
Martuccelli D. [2005], « Les trois voies de l'individu sociologique », Espaces Temps [En ligne],
http://www.espacestemps.net/articles/trois-voies-individu-sociologique/
Martuccelli D. [2006], Forgé par l'épreuve. L'individu dans la France contemporaine, Paris, Armand Colin.
Martuccelli D. [2010], ¿Existen individuos en el Sur?, Santiago, LOM.
Sciolla L. [2001], « La nozione di individuo. Osservazioni su Louis Dumont », in La società degli individui, vol. 10, IV/2001, pp. 93-109.
Simmel G. 1999 [1908], Sociologie, Paris, PUF.
Wright Mills C. [1959], The Sociological Imagination, Oxford, University Press.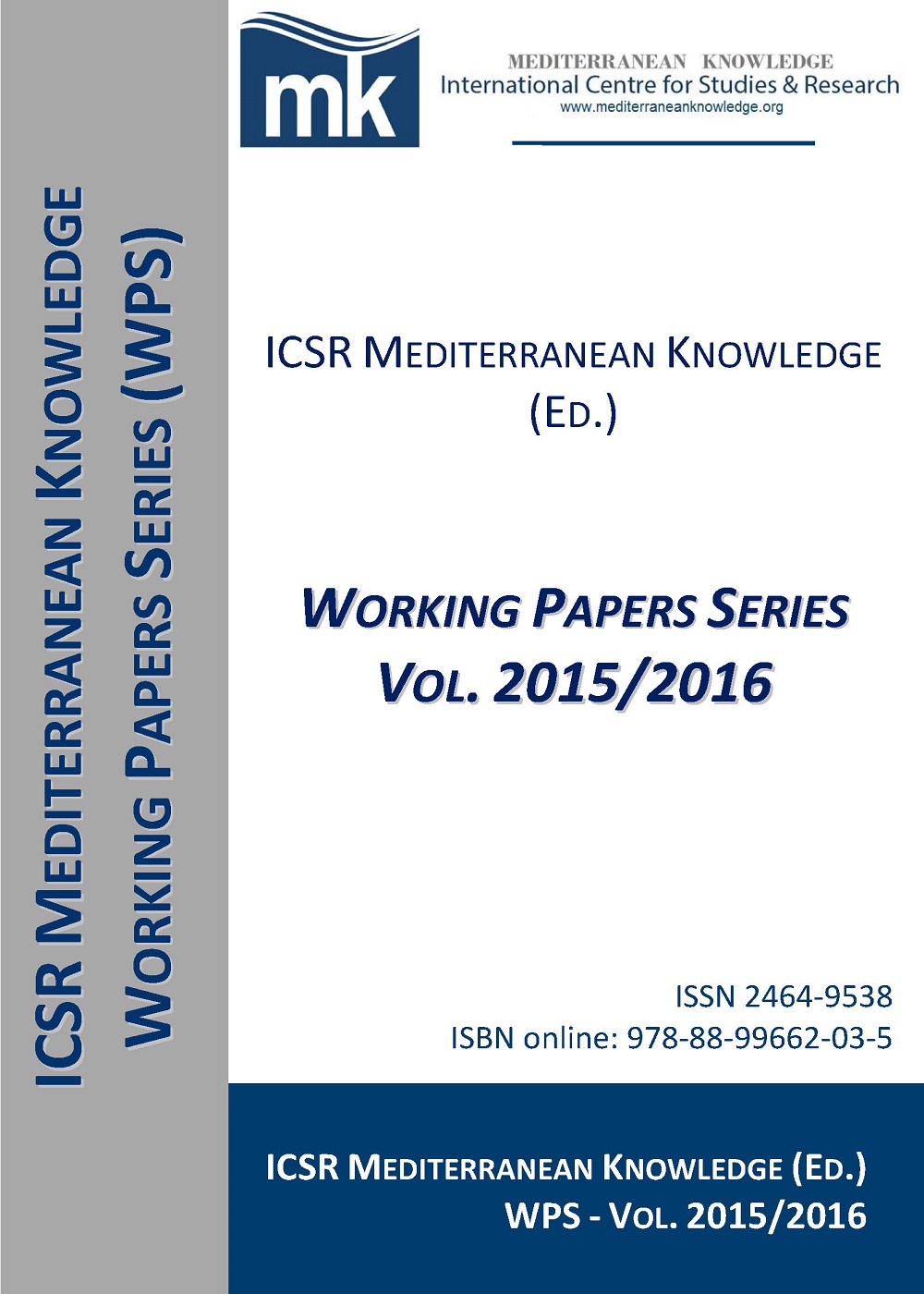 Authors who publish in this Working Papers Series agree with the following points:
The author(s) guarantee(s) that the article is original and it has not previously published and it has not been sent to other series for consideration.
The author(s) declare(s) that the work does not violate the copyright of third parties and assume the full personal and financial responsibility for any legal action which may be brought by third parties against the ICSR Mediterranean Knowledge
The author(s) retain(s) the rights of the work and grant to the ICSR Mediterranean Knowledge the right to publish the work in digital edition with the licence Creative Commons Attribution Licence 4.0 (CC BY-NC-ND) or in any other form that the publisher considers opportune for the maximum dissemination. This attribution allows others to share the work, indicating the authorship and the initial publication in this Working Paper Series.
The authors can establish other arrangements with non-exclusive license to distribute the published version of the work (eg. deposit it in an institutional archive or publish it in a monograph), indicating that it was first published in Working Papers Series of the ICSR Mediterranean Knowledge
The author(s) can distribute the work online (eg. on their website) only after that it is published by the Working Papers Series of the ICSR Mediterranean Knowledge (see The Effect of Open Access).